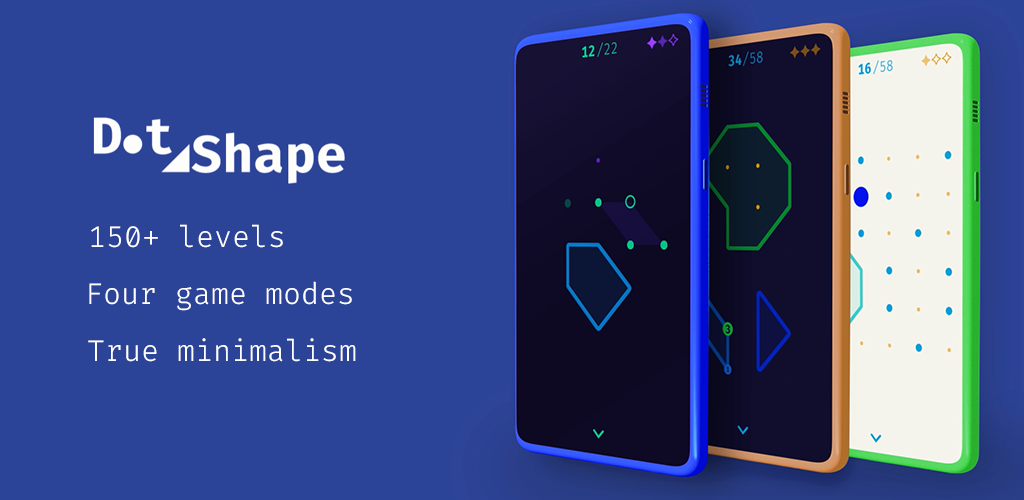 Dot/Shape
Try logic game the Dot●◣Shape in minimalistic style. The game is relaxing at first levels, and in process of passing turns into the real puzzle. Your brain will be working at 100%. Activate dots, connect a line and build shapes. Don't forget: to make wider angle – to get more points!
There is new, unique gameplay in the game. Only for inquisitive minds. Levels have many ways of passing. Try, experiment, create! Throw down a challenge to the intellect, open all modes of the game.
∷Characteristics
• relaxing atmosphere
• minimalistic design
• day/night option for care of yours eyes
• 120 levels
• 3 mods
∷How to play?
• Fill the field with one or several shapes. Points are awarded for quantity and values of angle.
• There аre levels where before building figures it is necessary to activate dots.
• When you activating a third dot in one cell it is necessary to close a shape, or to move a dot.
• You can closing shape at any time from any active dot.
∷Future updates
• + 200 new levels
• + 4 new different mods
At the moment the game is in development. I will be glad to feedback and suggestions.

Download
Click download now to get access to the following files:
Also available on